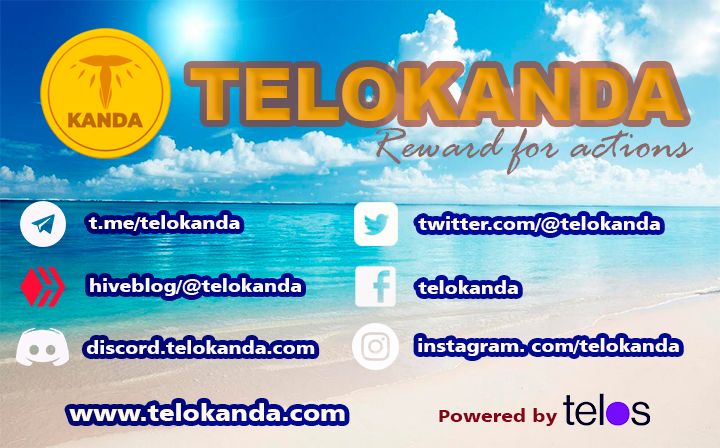 WHAT IS TELOKANDA?
Telokanda is a Telos, Hive and EOSIO Blockchain based smart contract platform where users get rewarded in cryptocurrency for taking actions. The platform has three founders Myself @citimillz from Nigeria, @empato365 from Nigeria and @ackza from California. The name Telokanda was originated from the name WAKANDA, The Imaginary African location. We have a Tribe on Hive https://nitrous.telokanda.com where users create content and earn our both HIVE and our native token called KANDA which is available on Newdex, Alcor and Hive-engine exchanges. Our platform existed as a result of a Telos work proposal and since then it has been growing into higher heights.
AIM AND OBJECTIVES:
Our Aim and objective is educate a large number Africans about the benefits of Blockchain technology and Cryptocurrency. We are doing so by making sure that every African owns a cryptocurrency wallet. Our community is open to people from all around the world irrespective of nationality, if you believe that Africa is the future Crypto hub and you will like to be a part of the Crypto revolution, then feel free to join the community and interact with developers, bloggers, graphic designers, photographers, traders, token experts from across the globe. We tip out free Crypto daily in our discord server to our members as a way of making sure members are empowered morally and financially. Every Friday, The Telokanda team hosts the Telokanda Weekend Discord Party where we use @tip_cc , @kandabot and @tipitbot to set up giveaways, trivias, airdrops, redpackets for members to claim. Tokens like BTC, HIVE, TLOS, KANDA, EOS are being won. As a result of the effort put in by our team to promote Crypto and Blockchain to Africans worldwide, We have been able to onboard hundreds of users to Telos, Hive, EOS Ecosystems. We have also onboarded numerous users to CHALLENGEEOS Gaming App, an EOSIO based Challenge App operated with Crypto.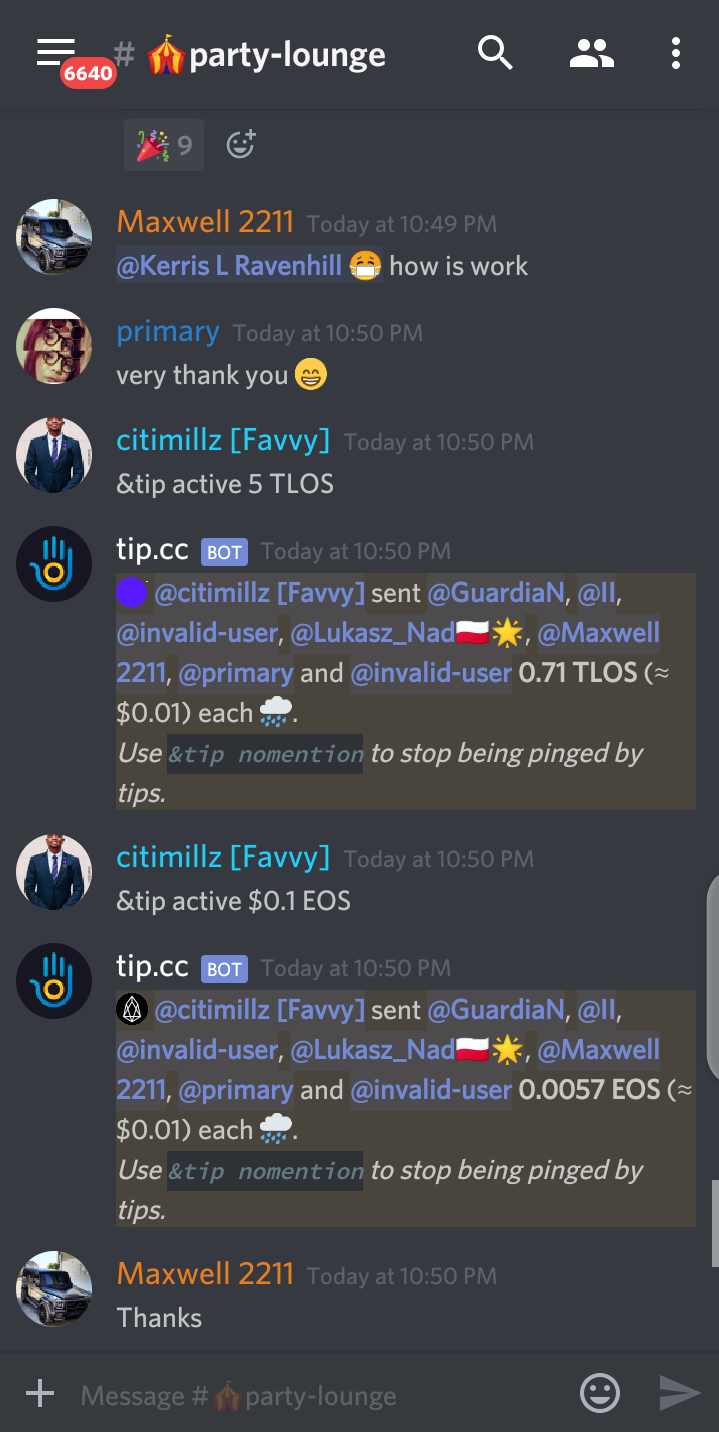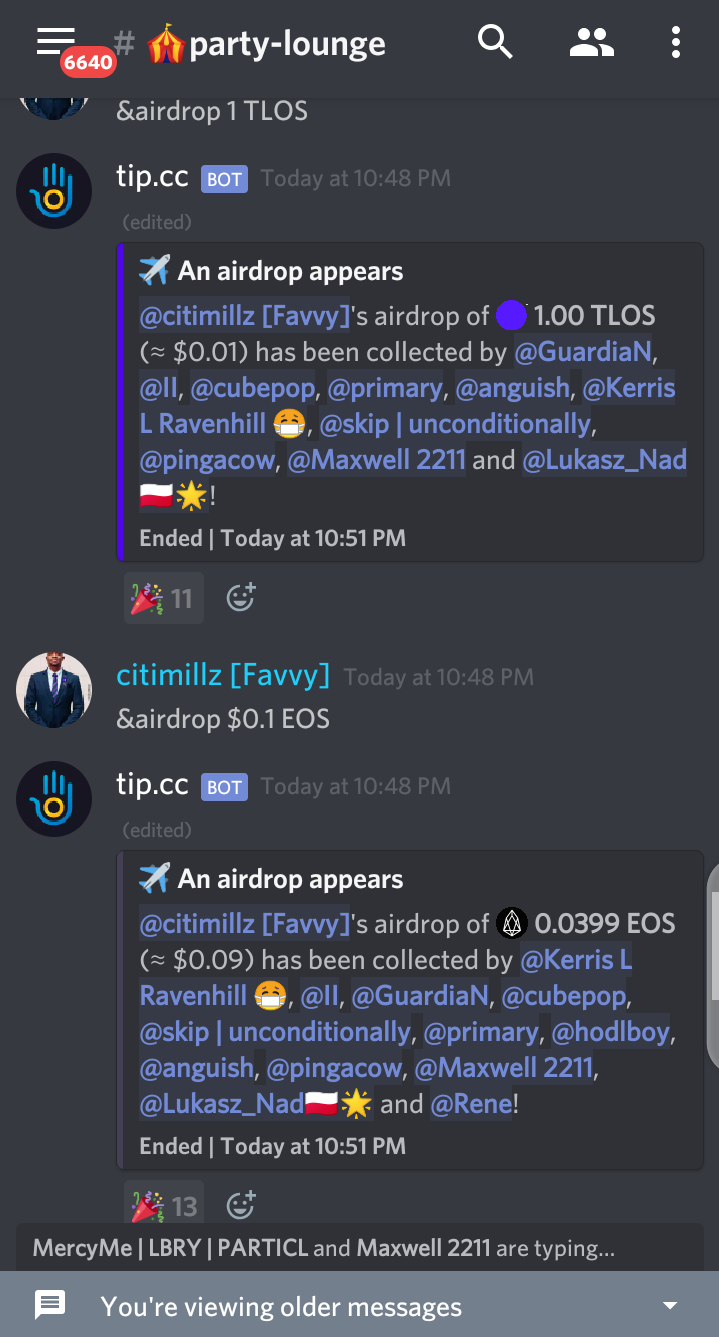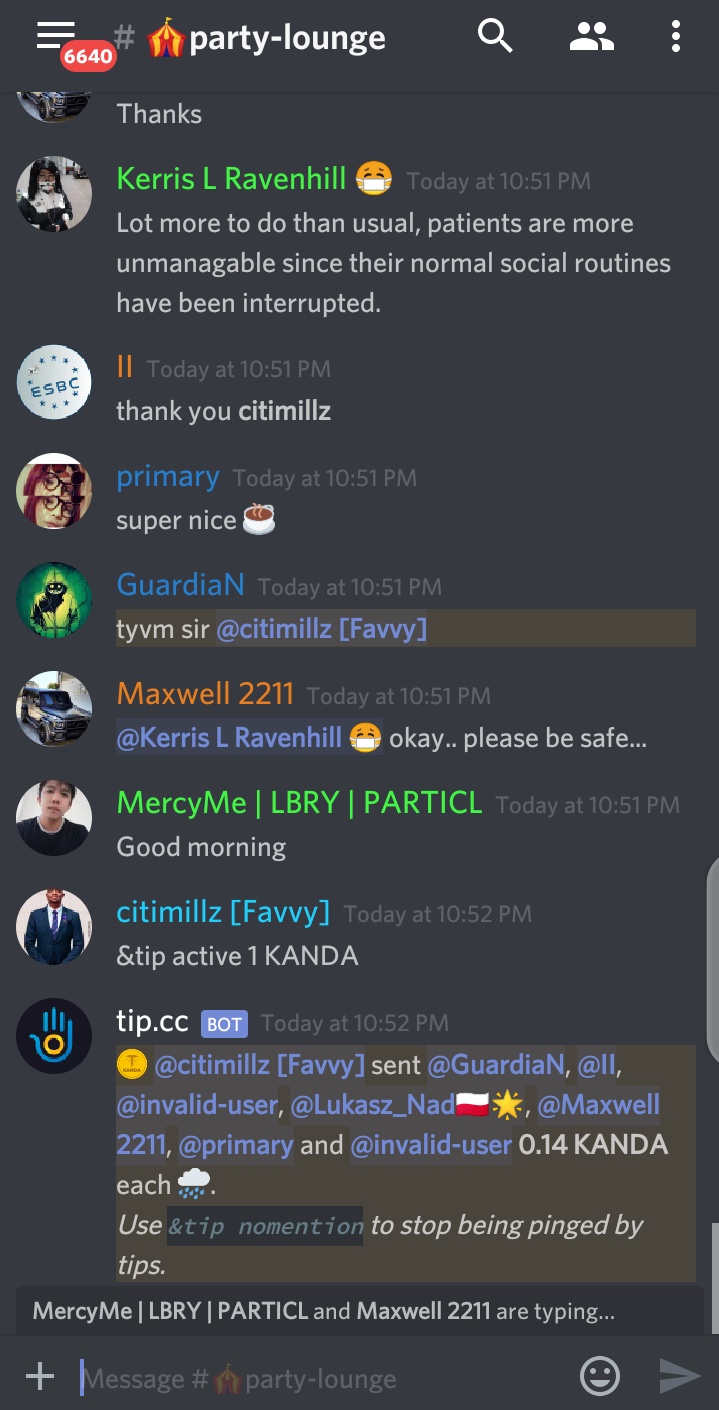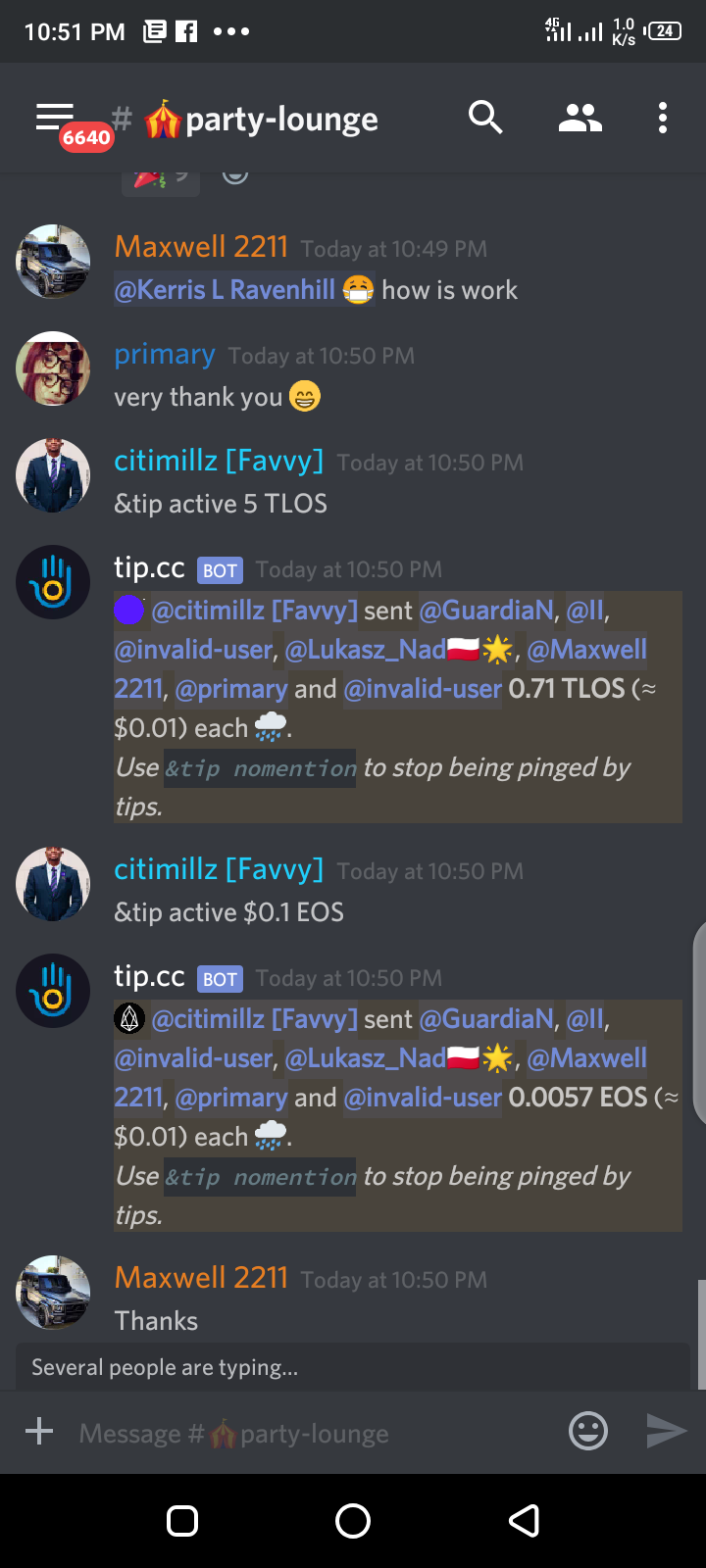 IMAGES FROM TELOKANDA DISCORD SERVER
KANDA TOKEN:
KANDA token has a circulating supply of 50,000,000 KANDA tokens. The token can be traded on Hive-engine, On Newdex as a trading pair with TLOS, and on ALCOR exchange.
Join Telokanda Discord here https://discord.gg/ECsVqza
Subscribe to the Telokanda community on Hive https://hive.blog/trending/hive-182425
Earn KANDA when you create contents using the Telokanda Tribe website https://nitrous.telokanda.com or using #Telokanda as one of your hive post tag.
Have your PROMOTED Telokanda nitrous post show up every hour on our Discord for other community members to read and support.
Buy KANDA on Newdex using KANDA/TLOS trading pair here https://newdex.io/trade/telokandaone-kanda-tlos
Buy KANDA via hive-engine here https://hive-engine.com/?p=market=KANDA
Trade KANDA on ALCOR via https://telos.alcor.exchange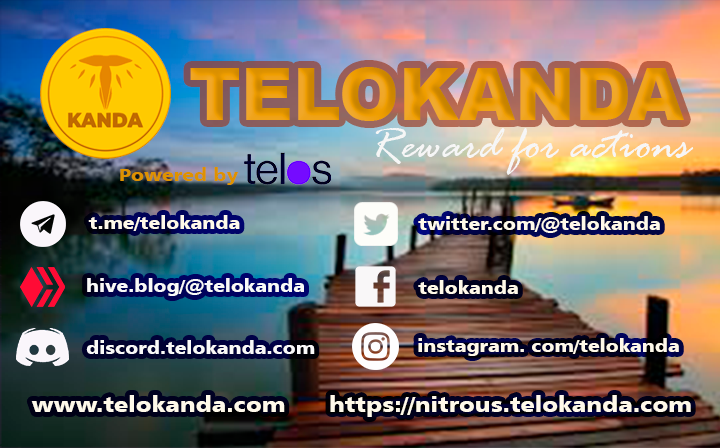 Visit Telokanda website here https://Telokanda.com
Instagram:https://instagram.com/Telokanda/
Telegram: https://t.me/Telokanda
Hive: https://hive.blog/@telokanda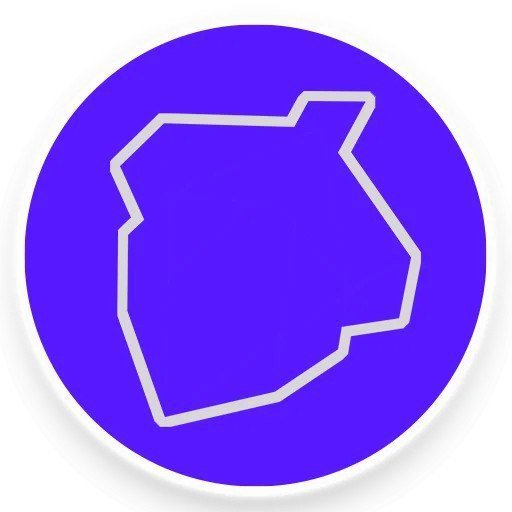 WHAT IS TELOS?
Telos is a decentralized and networked third generation ecosystem that empowers Intellectual Leaders and Communities to work hand in hand and build a robust global economy. The platform is built on the Telos Blockchain which is super fast with high capacity and is scalable. The platform is one of the fastest growing dapp platforms and has a native token called TLOS available on CoinGecko,CoinTiger, Cryptolocally, Probit, Newdex exchanges etc. Aside from being used for trading purposes, the token can be used for voting and staking purposes too. Telos is popularly known for it's advanced and exclusive governance features which can easily be deployed on any app. Lots of dapps are deploying in all areas like social media, some business, games, etc (not much gambling compared to most chains). Telos has the most robust governance features of any blockchain and there are the first to extend this governance engine to any dapp on the chain to use easily. That is one reason why so many new dapps are getting onboarded. This Governance as a Service from the chain level doesn't exist as a working product anywhere else. Visit the website and get to know about Telos work proposal system, Staking rewards, Telos Decide. The current staking reward on Telos is 14.32%.
Buy TLOS via carbon here: https://buy.carbon.money/?tokens=tlos
Download TELOS Wallet for mobile here :
https://github.com/Daniel-Uzcategui/Telos-Wallet-Releases/releases
Download SQRL desktop Wallet:
https://Sqrlwallet.io
TELOS FOUNDATION: An independent body which operates on behalf of the Telos Network.
Read about it here: https://telosfoundation.io
Social Media Accounts:
Telegram: https://t.me/hellotelos
Twitter: https://Twitter.com/@hellotelos
Discord: https://discord.gg/DUqDKpa
Reddit: https://www.reddit.com/r/TELOS/
Be a part of this communities and together we will unite to build a solid global economy for the future. Thanks for reading my blog and have a good one.
Posted Using LeoFinance Beta