Hello everyone, I hope I meet you all well? I must say I'm happy making this post.
The ChallengeEOS application offers everyone a chance to earn real crypto rewards just completing a simple task and if you are not using the app, you must be missing a lot.
So far people have been joining the ChallengeEOS family and I believe they have fun completing simple tasks to earn rewards. You too can be part of this family!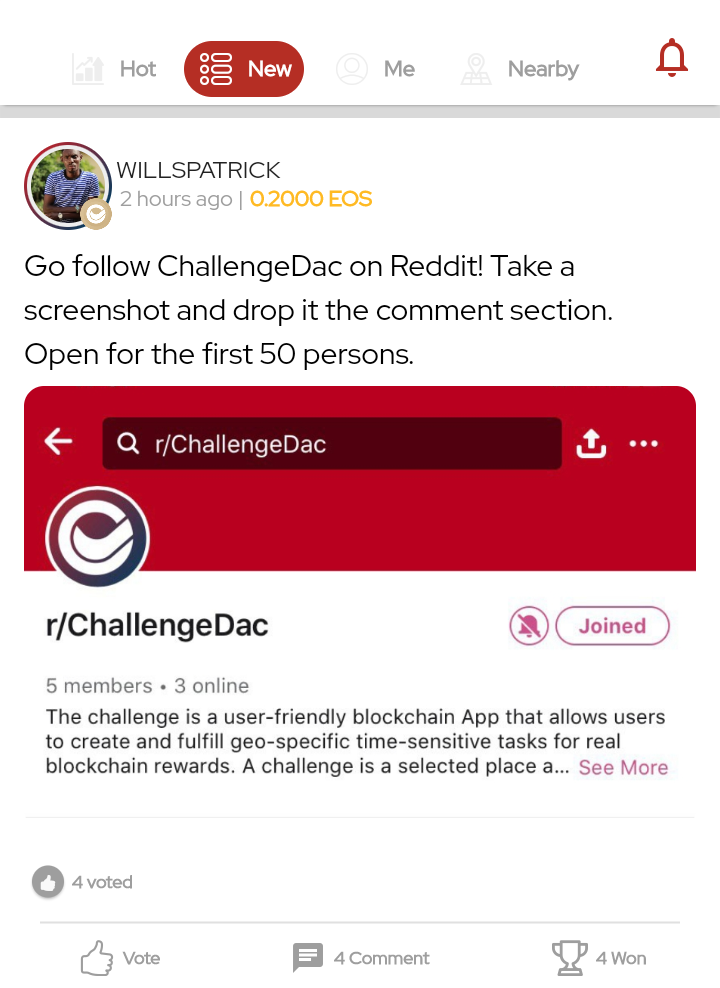 I dropped a task challenge today using the ChallengeEOS application and the reward is set to be 10EOS open for the first 50 persons. Once the task is completed, your reward is seen!
Completing this task takes nothing as you'll be rewarded with EOS. So, it's worth it!
What is ChallengeEOS Application?
The ChallengeEOS App is an EOSIO based Geo-specific application used to send and receive challenges to earn a reward! Challenges could be to be complete a simple task or location identification!
Coins available on the App are CHL, EOS, EBTC, SAND, EETH, DAPP, SENSE which can be used to create challenges!
Have you downloaded the ChallengeEOS App? Download now!
For Android Users:
https://play.google.com/store/apps/details?id=challengedac.com.challenge_dac_app
For iOS Users:
https://apps.apple.com/us/app/challengeeos/id1478759780
Subscribe to Challengeeos Community here
https://hive.blog/trending/hive-122179
Visit https://challengedapp.io for more details
Join Challengeeos Telegram Community
https://t.me/Challenge_DAC