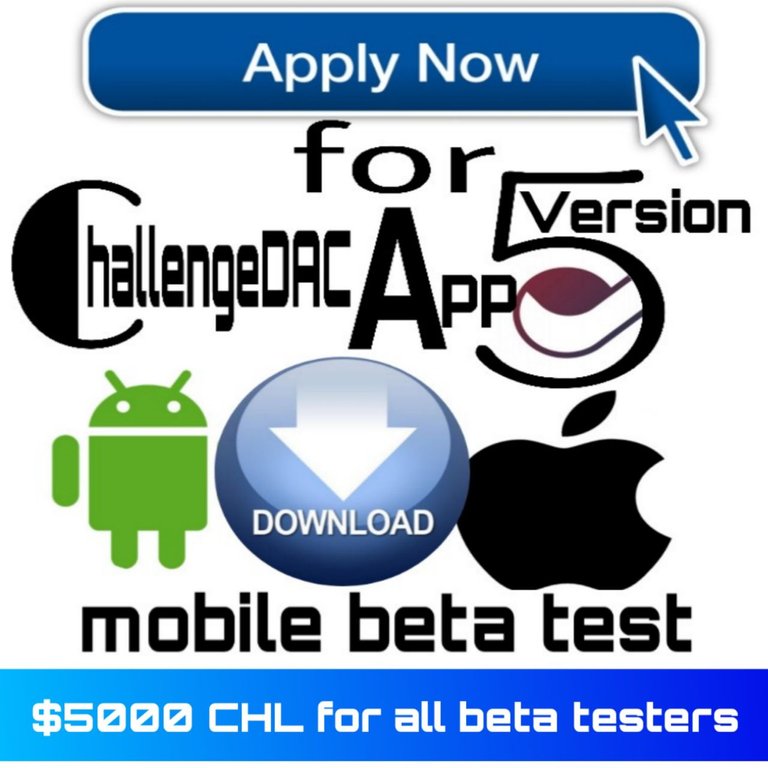 Good day Hivians,
Challengeeos Team is about launching the Version 5 of the Challengeeos App. So the team are calling out to Hive Blockchain users to support them by beta testing the 5th Version so as to find problems and also give suggestions as to what they feel should be included in the new version. The new version will be available for both iOS and Android users.
To become a Beta Tester of the App. Kindly follow the simple steps:)
For iOS users:)
-Download this APP ⬇️
https://apps.apple.com/us/app/testflight/id899247664
-Drop your email address on the comment section of this post so an invite link can be sent over to you.
For Android Beta Testers:)
-As an Android user you will have to drop your email address on the comment section of this post so that the link to the Apk file can be sent to you.
Challengeeos App is an EOSIO based geo-specific and time senstive app which allows users to send and receive challenges for real time cryptocurrency rewards. The App has a local currency called CHL token available on Newdex, Okex, CoinGecko and Bitsonic exchanges. Tokens supported by the App are SAND, SENSE, CHL and EETH tokens. The Challenge Team is based in San Diego, California.
Buy CHL via @newdex-io:
https://newdex.io/trade/challengedac-chl-eos
ChallengeDAC Official Accounts:
Website: https://www.challengedapp.io
Telegram: https://t.me/Challenge_DAC
Instagram: https://www.instagram.com/challengedacdapp/
ChallengeDac YouTube: https://www.youtube.com/channel/UCnYWlP_UT6k5EIfuLSD3Spg
Twitter: https://twitter.com/ChallengeDac
Discord: https://discord.gg/HHXFfV